I'm working on some secret projects right now. I have one gift in the making that just needs an edging, and then it will be done (and I will post pics after it's been given to the recipient). I have a baby gift that I recently finished and sent out to a friend, which I don't want to post photos of until I know it's been received.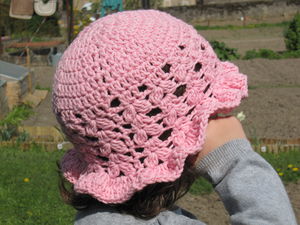 Mon urban hat, pic taken from the pattern website
Less secret: I will soon be making gifts for my niece, whose birthday is coming up too quickly! She'll be 6 on the 31st. I plan to make
Mon urban hat
and a
Spring Bag
for her, both from Lily Sugar 'N' Cream yarn in robin's egg blue (blue is her favorite color, or at least it was the last time I checked!). Hope to get started tonight if possible. If crises occur before her big day, we'll buy her a toy instead; but I really want to make her something.
Spring Bag, pic taken from the pattern website
Also, I will soon be making a hat for a friend of some friends who has a terminal illness. I don't know him--we've never even met--but any friend of theirs is a friend of mine, and I am glad to be able to give something to help out. I'm going to use Caron Simply Soft in Dark Sage (which is really more of a forest green).
I've re-started my little knitting swatch. I got sick of looking at the holes, and when I tried to fix them, things got even more screwed up...So I decided to start over from scratch and try my hand(s) at casting on. :) I did it! I am so proud of myself. My friend who is teaching me at S&B (which I unfortunately did not get to attend this week) uses the Continental Method. I've never used the English Method, so I don't know which is "better" (and my knitting friends tell me it's just a matter of personal preference). I think I like Continental, though. It seems like it might be slightly less complicated (?), and some say it's quicker. As an impatient person, I think the quickest method should suit me best!
I've gotten some books out of the library, including
Stitch 'N Bitch: The Knitter's Handbook
, which is what I used to figure out how to cast on. It seems pretty comprehensive; I think I may need to own it as soon as I have some money. For now, hooray for libraries!!!
Any other book suggestions for a very new knitter?
I picked up
The Yarn Girls' Guide to Simple Knits
at the bookstore the other day at a really low price. The projects in it are mainly made with chunky yarns and big needles, and I don't have big needles yet, but I'm sure I will at some point. For now, I just have the size 8 needles that my friend is letting me use.